We are over a week since the All-Star game and a couple Bisons were involved. Jim Negrych was the starting 2B and went 0-3 with a strikeout. Mauro Gomez started at DH and also went 0-3.
The Bisons have completed 2 series since the break and have gone 4-4.
Here is how some of the key players have done:
Mauro Gomez:
The IL leader in HR has hit 8-30 with 4 walks to give him a .267/.353/.533 line. He has 2 doubles and 2 HR with 7 RBI. He has struck out 8 times.
Anthony Gose: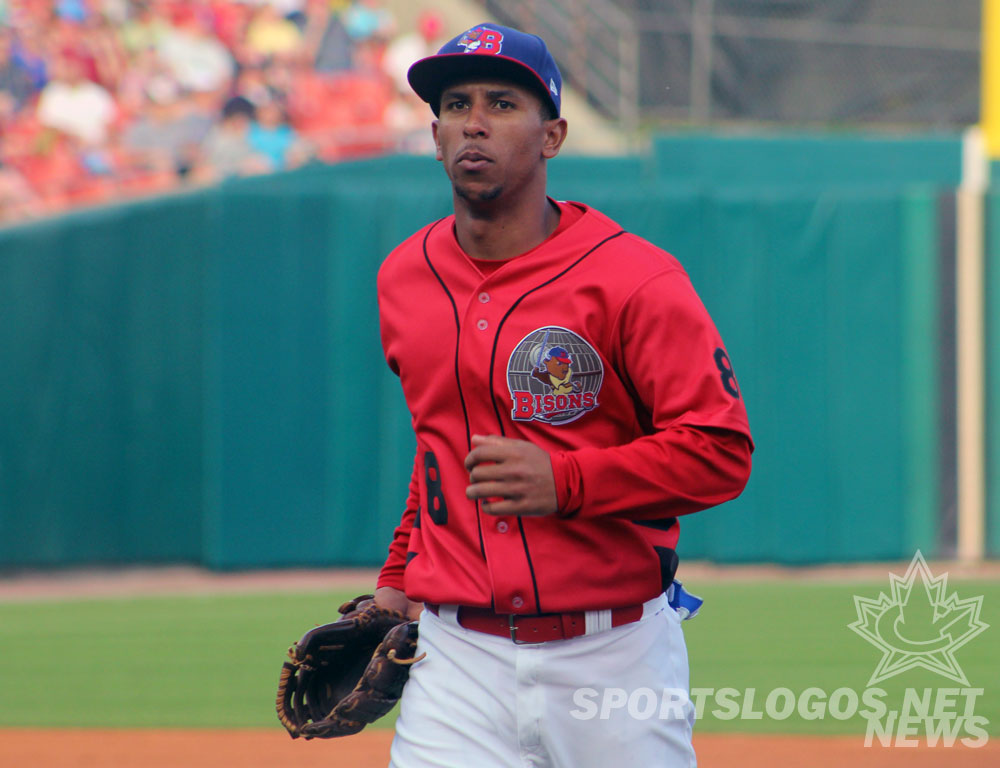 Gose has been the biggest disappointment this season. Gose is 6-25 with 3 walks for a .240/.310/.240 line since the break. He is also 1-3 in SB attempts and 7 strikeouts. Since his demotion from the Blue Jays, Gose has a .226/.274/.271 line in 170 PA and is 7-14 in SB with 55 strikeouts.
Ryan Goins:
My favourite Bison has come out swinging a nice stick after the break. Goins is 8-25 with a walk for a .320/.346/.520 line with 2 doubles and a HR. This season, he has had a decent sized platoon split. He has a .277/.338/.390 line vs RHP and just a .238/.262/.363 line vs LHP.
Moises Sierra:
Coming off an injury and a rehab assignment for the GCL Blue Jays, Sierra only played against the Clippers. He was 6-16 with a double for a .375/.353/.438 line.This season, Sierra has actually had a reverse platoon split. He has hit .289/.331/.436 vs RHP and .225/.308/.363 vs LHP.
Kevin Pillar:
Pillar has hit the ground running since his promotion to Buffalo. He now has a .344/.385/.592 line in 135 PA with 13 doubles, 3 triples, and 4 HR. Since the break, he has hit 11-33 with a walk for a .333/.343/.545 line with 3 doubles and 2 triples. He has destroyed LHP this season with a .390/.427/.575 in 157 PA accross both Buffalo and New Hampshire.
Munenori Kawasaki:
Last, but certainly not least, is fan favourite Munenori Kawasaki. He has only 4 hits in 18 AB, but has 5 walks to give him a solid .391 OBP.
The Bisons roster has taken many different shapes this season, thanks in large part to injuries that Blue Jays have suffered. Currently the Bisons have a pair of Blue Jays pitchers on rehab assignments in J.A. Happ and Sergio Santos. Happ has made a start and Santos has 4 appearances so far.
Currently on the DL for Buffalo are pitchers Chad Beck, Dave Bush, Chad Jenkins, and Michael Schwimer and fielders Jim Negrych, Ricardo Nanita, and Lance Zawadski.
The Bisons also recently released P Claudio Vargas and UTL Eugenio Velez. The Velez move was surprising given his solid .270/.372/.437 line with 21 SB while playing 2B, 3B, and LF.
Recent additions to the active roster are Neil Wagner (back from an impressive MLB stint, but forced off the roster when Melky returned) and Jeremy Jeffress (finally healthy).
Thad Weber has been a really bright surprise for the Bisons since his claim from the Padres. He has a 2.49 ERA and 1.043 WHIP in 61.1 IP. He has made 9 starts for the Herd and 3 relief appearances.